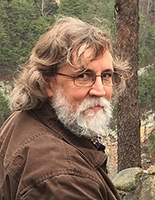 I have called Oklahoma, North Carolina, and Florida home.  In 1979, I started a career in aerospace working on the Space Shuttle, Delta, and Atlas Programs.  
Photography first caught my interest in the mid 70's with an initial focus on the Appalachian Mountains.  Travels during my aerospace career and vacations have presented new photographic opportunities around the US, Canada, and the U.K.  I have always gravitated towards landscape, old architecture, and the beauty of flowing water for my preferred subject matter.
I find shooting in Black & White, digital as well as film, both challenging and rewarding.  While B&W tends to be my primary focus, there are times when color provides that extra depth to certain subjects that I just can't pass up.